Author

Helen Dennis visits The Angmering School

7 Jul 22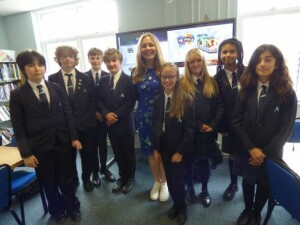 Thank you to everyone who attended any of the sessions with author Helen Dennis on Wednesday this week. Helen really enjoyed speaking to you all and chatting to lots of you about your brilliant ideas relating to her books.

Congratulations to the following prizewinners:

Year 8 creative writing shield: Ben Goodchild
Year 8 top reader: Ruby Maslin (3 million words+)
Year 7 top readers: Jesse Jones (3 million words+)
and this year's champion Will Cross (6 million words+)

Top scoring tutor group this year is 7VMA, who averaged more than 465,000 words EACH!