Angmering

Calling - The Angmering School Summer Festival 2022

7 Jun 22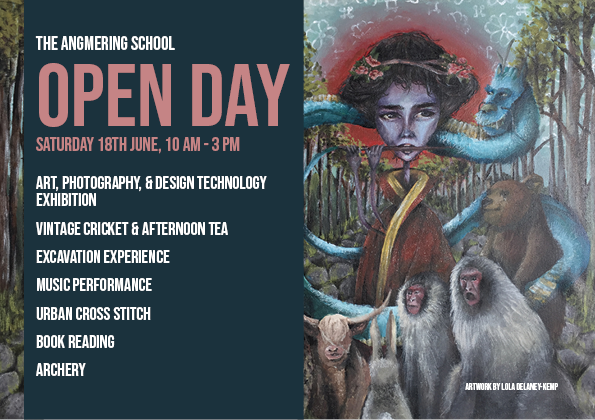 Angmering Calling - The Angmering School Summer Festival 2022 - Brochure of Events.
Following the success of our first festival in 2021, we are once again opening our doors to friends and family and members of the local Angmering community.
There is so much we have to share with you this year. The big news is that we have been awarded the Gold Arts Award by The Arts Council. This award recognises the importance that our school places on teaching creativity and the arts, as well as acknowledging the range and quality of we provide for our students beyond the curriculum.

The festival starts with our Open Day on Saturday 18th June. We have a packed schedule of events including our Art, Photography, Design & Technology exhibition, a cricket match with a vintage tea provided by students and staff from our food department. There will be archeological activities provided by Timeseekers throughout the day as well as a number of musical performances. We will also be undertaking some Urban X Stitch, with the help of our friendly local yarnbombers.

During the festival we have opportunities for students, friends and family to take part in artist visits, talks and workshops as well as STEAM fest, which will be a fun-filled evening of activities that unite Science, Technology, Engineering, Art and Mathematics.
As Covid restrictions have lifted this year, our performing arts departments have been able to reintroduce two key events in the school calendar. The first is Music Mania which showcases the talent and skill of our young, the second is our end of year, whole school production. Romeo and Juliet will be performed over two dates and concludes our festival this year.

Continuing to develop our important partnerships with Angmering Parish Council and Arun Inspires, we will be organising a second Art Trail with ten venues taking part around the village.

I am so proud of our amazing school community and I hope that you are able to take part in our celebratory festival this year. I know that students and staff are looking forward to sharing their skills, passions and creativity with you.

Sam Hobbs Senior Leader: The Arts and Creativity