The

David Hunt Trust £10,000 donation to The Lavinia Norfolk Centre

7 Jun 22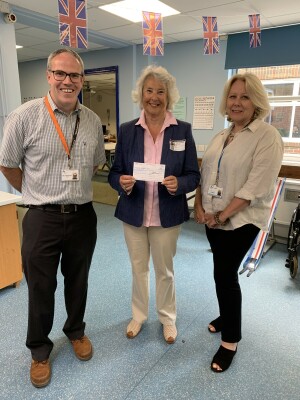 The David Hunt Trust £10,000 charity donation to The Lavinia Norfolk Centre.
Local retired businessman David Hunt and his partner Catherine Mackenzie set up the The David Hunt Trust in 2021, creating respite breaks and enabling those living with health conditions to take a break from their routine and make memories with their families.
David is himself disabled with a damaged spinal cord, and as a wheelchair user has experienced the difficulties that this presents, hence his wish to donate to the Lavinia Norfolk Centre and help to improve the day-to-day learning experiences of our students.
This extremely generous donation of £10,000 will enable us to purchase items on our wish list, and we are absolutely delighted to be the beneficiary of such a large donation. Every single member of our school community would like to share their heartfelt thanks for this phenomenal gift. We would also like to mention that this is the second charitable contribution made by The David Hunt Trust, who previously presented the LNC with a cheque for £5,700.
Nat Webb, Teacher in Charge of the Lavinia Norfolk Centre said; "This fantastic donation will go towards much needed equipment that will benefit not only our current students but many more to come in future years. We are all so grateful to the David Hunt Trust."
Simon Liley, headteacher of The Angmering School and a member of the Lavinia Norfolk Centre Trust added "This is a significant bonus for the work of the Trust and will directly benefit a wide range of children. We are incredibly grateful for the ongoing kindness and generosity shown by the David Hunt Trust."
Pictured
Mrs Kathryn Spencer, Harry Crayford, Catherine MacKenzie, from The David Hunt Trust, Oli Roberts, Beth Taylor, Sid Turner, Anya McIntyre and Mr Jon McNamara.